As the coronavirus loosens its grip on the economy, there's no doubt that consumers will start flooding the market to get what they need or missed while sheltering in place.
Now that auto sales have been listed as an essential service, it's hard not to get excited.
However, many factors need to be considered and used to guide your business model, offer strategy, and messaging in the coming weeks to months.
Market Considerations
Unemployment is at an all-time high since the Great Depression. 22 million Americans have filed for unemployment benefits in the last four weeks- that's roughly 13.5% of the U.S. labor force1

Expect loan delinquency due to unplanned debt and a high level of unemployment

Sales will remain low across the board. The US is projected to lead the global decline with a 26.6% drop in domestic vehicle sales, selling between 12.5 million and 14.5 million vehicles in 20202
Follow consumer and market trends to adjust your messaging, channel mix, and offer strategy
Many consumers will still be cautious and may be uncomfortable while in-store; keep this in mind before interacting with customers in person

Continue to Respect Customers' Space
Try to be patient and respect customers who may want to keep their distance in the store or the service drive. Be cautious of offering a handshake – some consumers may not feel comfortable with that yet. Consider letting customers make the first move; they will approach you or wave you down if they want your help.
As customer traffic increases, it's not a bad idea to continue cleaning measures and monitoring the health of your staff. If possible, leave out disinfectants such as hand wipes and sanitizers in your dealership's shared spaces and waiting areas. This will help put your customers at ease and maintain a safe environment for staff and shoppers.
Update your My Google Business Listings, Social Media, & Website
Consumers will have numerous questions as social distancing and business restrictions are lifted. To help decrease high call and email volumes, do yourself a favor—continually update your dealership's operational and process changes across your My Google Business profiles, your website, social media, or your coronavirus FAQ source.
If temporarily closed, has your dealership reopened for business?
Are your contact-free and valet services still available? For how long?
Are you still maintaining social distancing and frequent cleanings?
What department(s) are open?
To learn more about Digital Marketing in a Dynamic Economy, click the button below to view our free, on-demand webinar:


Digital-first Marketing Strategy
About half the nation allows for dealership sales (24 states), while the other half (26 states) only allows online or remote sales3. Coupled with consumers' health and safety concerns, auto shopping will likely remain primarily digital for the coming weeks or months.
Shelter-in-place orders and health concerns have led consumers to seek out information online. And better yet, they're online later and longer. If there's one thing is for certain it's that dealerships need to be using digital marketing now more than ever.
Sales volumes have been different based on region or state, and they will continue to change as social-distancing restrictions are lifted. GSM suggests following your region or state's digital marketing trends and adjusting your budget and strategy accordingly.
It's critical to mention that before the pandemic, the automotive paths to purchase and service were overwhelmingly digital, meaning that they're almost exclusively digital now. With auto shoppers online longer and later, dealerships have a fantastic opportunity to reach them.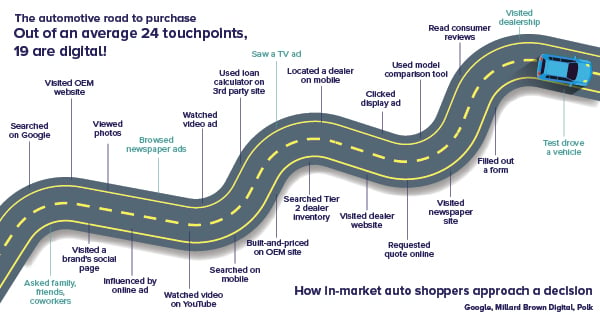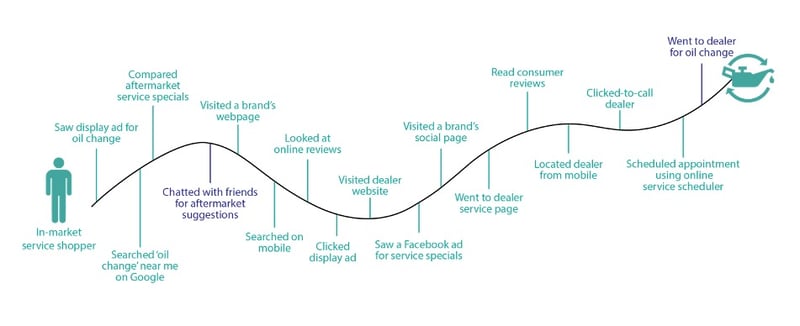 Why digital is the move
We know consumers are online– the trick is staying ahead of their rapidly-changing behavior(s). Digital advertising's speed is unrivaled and it's what's needed to keep up with consumers' changing consumption patterns throughout the pandemic.
Digital allows you to instantly pivot your marketing in real-time to capture online traffic and Search share as it changes. This is especially important because your budget may be tighter than normal. Luckily, automated processes that power digital advertising help spread your budget farther.
Google Smart Bidding, Day Parting, and Retargeting with a 180-day lookback window can all help your dealership reach auto shoppers more efficiently. To keep your digital advertising performing it's best, regularly review and update your manual and automated bidding strategies throughout the pandemic.
Continue Empathetic Messaging—online and offline
Tone still matters even as the virus becomes less of a threat to consumers and businesses. Unemployment and debt will be high in the coming months, so it's important brands remain empathetic and supportive of their customers.

---

1 CNN Business; April 16, 2020
2 IHS Markit, April 20, 2020
3 CNN; April 2020: Coronavirus pushes auto dealers to embrace online sales like Tesla, Carvana