Digital marketing is tricky enough without factoring in the finer details such as paid search ad extensions. However, ad extensions are not only simple to use, but they're also free to add. Below we've outlined a guide to selecting the right ad extensions for your business:
What is a paid search ad extension?
Before we dig into strategy, let's get a clear understanding of what a paid search ad extension is.
A paid search ad extension is a way of expanding your advertisement to provide additional information to users, giving them more reasons to choose your business. Extensions help increase an ad's click-through rate by including critical features such as call buttons, location information, links to specific parts of your website, and more.
Google Ads chooses which extensions to display based on each individual search on Google. Paid search extensions are recommended for any business using ads on Google Search.
Grow foot traffic with Location Extensions. These show your business' location, a button to call, and a link to your business details page. Location extensions encourage users to visit your business in person.
Grow overall sales or manufacturer sales with Affiliate Location Extensions. This type of ad extension shows users information about which retail chain stores sell your products or services.
Win business that's 'on the fence' using Callout Extensions. Callout extensions let you to include additional text to your ad such as "Price Matching," "Open 24 hours," or "Free Shipping." This helps you show off value-adds and other unique benefits that your business offers.
Increase phone calls and/or scheduled appointments using Call Extensions. These show your business' phone number or a call button to your ads. This offers users the ability to click-to-call if they're searching on their mobile device.
Increase sales of particular products or services, or grow overall sales using Price Extensions. These will display your products alongside their prices, allowing people to browse your products within the ad itself.
How to pick the right extension for your business
As with most marketing strategies, the extensions you choose for your paid search ads should directly relate to your business goals.
For example, if you want more in-store foot traffic, choose location extensions, affiliate location extensions, and callout extensions. When used together, these extensions allow consumers to find your store or other stores that sell your product(s), and to provide additional information that may help seal the deal.
If you want customers to contact you, choose call extensions. This gives your customers all the information they need to contact you.
Want to learn more about how you can use Paid Search ad extensions to reach your goals? Download our free ad extension cheat sheet [Preview below]: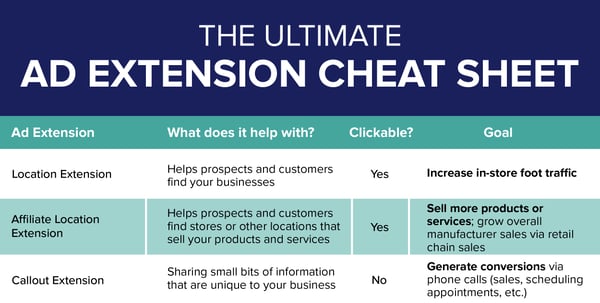 Extensions are free to add, so this gives your business ample room to experiment with different extensions and decide which one(s) are the most helpful for achieving your business' goals.
Google only recommends ad extensions to you if they're predicted to improve your ad's performance. Google recommends using 4 or more extensions but consider using all available extensions that are relevant to your business to maximize your results.
Moving Forward
Not only are paid search ad extensions fairly straightforward, they also make your paid search ads more visible and useful for consumers. You can browse Google's list of ad extensions for more ways to push your ad spend further while maximizing your results!
Curious about how your current Paid Search strategy stacks up? You can receive your own free, Paid Search evaluation from GSM's digital experts below:
Free Evaluation