Account-based marketing (ABM) is one of the most innovative and advanced marketing strategies out there. While this strategy isn't brand new, it's only now that the concept is gaining a lot of attention and businesses are embracing it for its power in growing ROI. Within the past three years, this tactic went from being relatively non-existent and unheard of to a popular B2B buzzword across the internet.
Not only is it a great way to get the most value out of your largest accounts, but it also has one of the highest ROI's of any marketing strategy. In fact, research by ITSMA (the founders of ABM), found that 87% of marketers that measure ROI say that ABM outperforms every other marketing investment.
But what exactly is account-based marketing, and how can it benefit your business?
What is Account-Based Marketing (ABM)
Account-based marketing is a marketing strategy that uses hyper-targeted and personalized communications to win new businesses from a specific account. In a nutshell, ABM targets specific accounts in order to engage with key decision-makers and build on that relationship to open new sales opportunities—similar to upselling.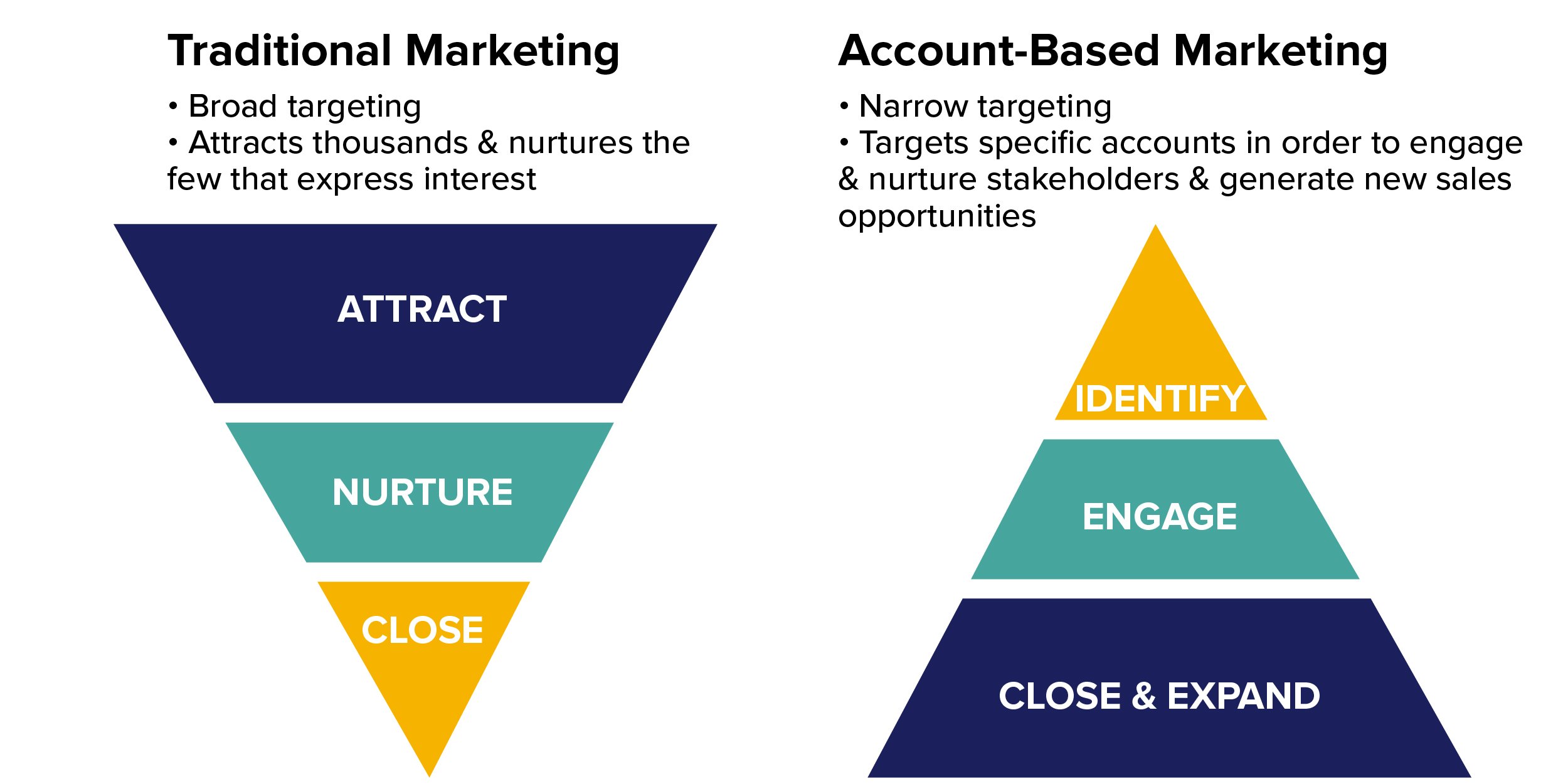 To employ ABM, you start by identifying your accounts with the highest average deal size. Then, you apply what you've learned from selling to them and find similar companies to target using the same selling strategies. Considering your past success, these similar companies should be more likely to do business with you, helping to increase average deal size over time.
After identifying companies that match your ideal target, then you research each company to help create a more relevant and personalized campaign. Consider researching your target accounts':
Target market: What industry are they in; What is their company size; Who are their competitors?
Company profile: What is their yearly revenue; What is their market share; What is the company's history?
Stakeholders: Who is on the management team; Who has the buying power; Who fills the company's key roles; Who are the company's influencers or final decision-makers?
Structure: What is the company's organizational structure?
Last, you use this information to develop and launch a marketing campaign that's tailored to fit the needs of the target account(s).
Account-based marketing is an extremely beneficial marketing strategy that a growing number of businesses with larger accounts are starting to employ. The main benefits of ABM include:

Long term returns and a higher customer lifetime value



Increased average deal size



Increased conversion rate of your leads



Cost and time savings
Because ABM employs a personalized marketing approach tailored to the account's specific attributes and needs, it's much more likely to succeed. ABM caters to a much smaller audience than general marketing, and this narrow focus helps customers feel that their needs are understood and being met.
Marketing and sales alignment
Too often the marketing and sales teams of a business aren't working in tandem to bring in new customers, nurture them, and continue the business relationship after the initial lead conversion or sale.
Account-based marketing gets marketing and sales teams working together to choose target accounts, develop personalized campaigns for them, and move them through the pipeline. The goal of this marketing strategy is to close a single account, which means both teams work toward the same goal.
Higher ROI
Account-based marketing has the highest ROI of all B2B marketing strategies because of how precise it is. By allotting time and resources to a few of your largest accounts deemed closest to purchase, you waste fewer resources and spend less time on campaigns that don't result in new business.
How it's used
At some point in time, marketers have all been guilty of sending mass marketing messages to customers and prospects—even with the knowledge that the more personalized and targeted a campaign is, the better it performs. While this strategy still works, its success rate is much lower than that of ABM.
Account-based marketing can be deployed in several ways. The specific approach you take with ABM depends on the characteristics of the account—what segments are meaningful to them? What marketing channels are the most relevant to them?
This can mean holding an in-person event like a VIP dinner for your largest account, giving them personalized gifts, or creating a personalized follow-up a few days later. It can also take the form of online content such as a personalized webinar or custom email messages. You can even use website personalization technology to create a tailored experience for specific accounts.
Account-based marketing is a great way to increase customer retention and strengthen the relationships you have with your existing accounts. By creating marketing campaigns with a narrow and specific focus, you conserve your resources and ensure the highest value for your money. ABM is the perfect new B2B strategy to supplement your larger campaigns.
ABM Strategies and Statistics
An incredible 60% of companies that use ABM see a revenue increase of at least 10% within one year, while 1 in 5 companies experience a 30%+ increase in revenue.
How is this possible?
The answer lies in one of ABM's top benefits: average deal size.
A study conducted by SiriusDecisions demonstrated that 91% of businesses using ABM increased their average deal size, and 25% of respondents experienced an increase of 50% or larger.
In another study, ABM Leadership Alliance discovered that B2B marketers see an increase in average annual contract value of 171% after implementing an account-based marketing strategy.
However, it's important to understand that increasing average deal size doesn't happen overnight. It's a continuous process that requires research, testing, and patience.
Conclusion
It's common knowledge that highly targeted campaigns outperform generic ones that use simplistic targeting. With this understanding, you are no longer tracking vanity metrics like impressions, website visits, and cost-per-click because these are largely based on broad-targeting strategies.
Instead, ABM tracks the activity and engagement from a few select accounts.This means your vanity metrics will likely go down, but your revenue will increase.