Are you wasting budget on a poor Paid Search strategy?
Paid Search is an extremely valuable channel, but only when it's backed by a strategic approach. Dealerships across the nation are feeling pressure to invest in digital, but they are falling prey to providers that push for expensive and ineffective Paid Search strategies. It's time to stop wasting money on a strategy that doesn't drive results.
The Paid Search powerhouse
Paid Search has recently gained a lot of attention and budget across all industries. This is because it is a successful channel for quickly connecting consumers with businesses. But, just how much pull does Paid Search have?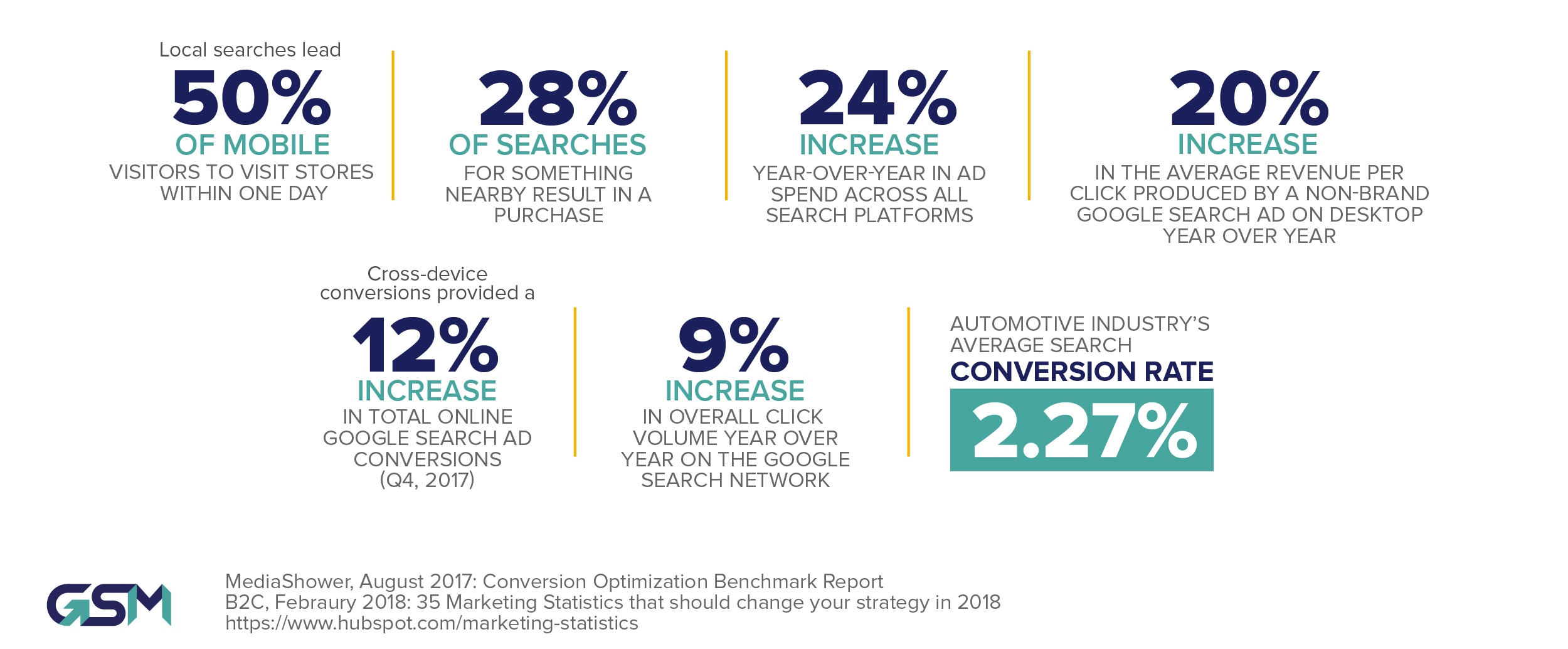 What dealers should do
Does your provider explain or break down your Paid Search strategy in a way that you understand it? If not, you could be following bad advice disguised as 'tech-talk'. Make sure your provider helps you understand your campaign metrics and budget allocation – for every campaign. A successful strategy requires transparency and collaboration between both parties.
Your Paid Search strategy should be dictated by your dealership's goals, not your budget.
At times, you do not need to increase your budget; you simply need to reallocate it to different channels. Diversifying your digital mix can help you reach more in-market consumers and increase top-of-mind awareness by putting your message in front of more consumers. An increase in budget doesn't always guarantee results. However, adding more channels to your marketing mix always guarantees higher visibility for your dealership and adds even more touch points for consumers to engage with your brand or to convert.
Paid Search should not stand alone, it should work with your other marketing efforts to elevate awareness and guide consumers from search to final purchase. View your Paid Search strategy as the glue to your marketing mix. It constantly helps consumers find your dealership – wherever they are in the automotive customer journey. Layering other channels into your digital mix will only make it quicker and easier for consumers to find your dealership and convert.

Taking a look at the bigger picture
Transparency: You should know where every dollar of your ad spend is going and why. You should also be able to understand what your performance metrics mean and how you can make them actionable. Is your provider willing to share your performance data with you?
Collaboration: Before you invest budget in any channel, your goals need to be clear and measurable. Work with your provider to establish reasonable goals, then decide what channels work together the best for achieving them.
Diversifying Digital: None of your marketing efforts should ever stand alone. Try combining Paid Search with Social, Display, or Retargeting. This will help amplify reach, awareness, and engagement with your dealership.
Want a free paid search evaluation?
Listen to our free, on-demand paid search webinar to receive your complimentary paid search evaluation: