Popular car sales websites are a great way to put your used inventory in front of in-market shoppers, but what if we told you there's an even better way? Digital technology has become so advanced, it can help you target car shoppers in real time—like when they're searching "Used Honda Civic" or "2018 Hyundai Elantra". When you pair Digital with Direct or traditional marketing channels, you add more customer touch points that help influence a purchase.
In this article, GSM covers strategies that can take your car sales strategy to the next level:
CRM retargeting
CRM retargeting, also known as database retargeting, allows dealerships to retarget the customers in their CRM. Using your own first party data, it delivers display ads that are tailored to a customer's unique interests and purchase behaviors. With this strategy, you can target audience segments based on known characteristics, such as VDP views and used inventory page views.
Database retargeting finds the specified customers in your DMS and starts tracking their online activity such as links clicked, opened emails, page views, and so on. It also relies on the data and previous customer interactions already stored in your DMS. In this case, as these customers surf the web, each one will see a display ad for the used vehicle(s) he or she viewed from your inventory. To keep these customers engaged, you can even target them based on a specific time frame such as page views within the last 30-days, 45-days, and so on.
Paid Search Remarketing
Paid Search Remarketing, better known as Remarketing List(s) for Search Ads (RLSA), is a Google ads feature that allows dealers to customize their search ad campaigns for users who have previously visited their site. This allows you to grow leads and conversions via the users who left your site without converting.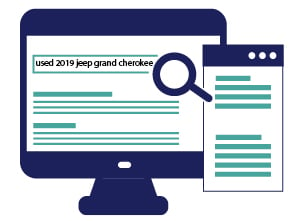 However, there is a caveat. RLSA ads only appear when a user is actively searching on Google using the keywords you are bidding on within your search campaigns. For example, if Katherine views a used 2019 Jeep Grand Cherokee on your site and leaves, but later types in "used 2019 Jeep Grand Cherokee" on Google, your inventory's used Jeep Grand Cherokee will appear. Better yet, the ad can offer a special deal on the vehicle to encourage a purchase.
A negative keyword strategy
A negative keyword strategy narrows your focus on specific searches and removes others that may not convert. For example, if you have a large group of consumers specifically viewing 2016 Porsche Panameras, you can remove your bids on other model years (2017, 2018, 2019, etc.) so your ads only appear to the in-market shoppers that want that vehicle from 2016. In the long run, this can help you save budget on niche audience segments by eliminating keywords that are irrelevant to your search audience and don't drive conversions.
Google in-market audiences
Google's In-market audience targeting can help dealerships target consumers who are in the market to purchase a vehicle. This helps your dealership reach audiences who are researching used vehicles, or who are actively considering buying one as they browse pages across the web. Google In-Market Audiences can also be leveraged on the Google Display Network. You can target consumers on contextually relevant websites such as Autotrader or Cars.com. Not only does this help create more interest in your used vehicles for individuals who are in the research stage, but it also helps drive awareness of your dealership.
YouTube videos / Video chat touring
The vast majority of consumers don't make a vehicle purchase "blindly", meaning they want to see the car first, before deciding to purchase it. YouTube videos and offering a video chat tour of a vehicle is a great way to show off its condition and features, without having the customer drive to the store. Better yet, if your used model is unique or has a certain body package that attracted a non-local buyer, he or she can still see the vehicle before driving to your dealership for purchase.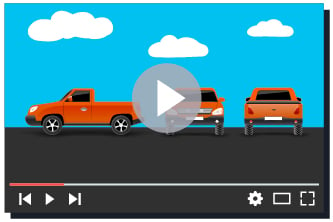 Dynamic display ad retargeting
Dynamic ads are available on the Google Display Network and Facebook. However, dynamic display ads take things a step further than traditional, static ads. They allow dealers to show previous site visitors ads that contain the exact vehicle(s) they viewed on your site. You can scale these ads to cover your entire used vehicle inventory and even tailor the messaging to a specific viewer. Using this strategy, you can drive sales by bringing previous visitors back to your website to book a test drive, research the vehicle further, or to purchase the vehicle.
Facebook Lookalike audiences
By now, most people understand the power of Facebook Lookalike audience targeting. Facebook creates lookalike audiences using a customer file from your CRM such as used inventory page viewers. Facebook uses your customer file (target list) to find consumers that are similar to the segment you are trying to reach.
This helps attract more qualified leads because the consumers share many characteristics with your existing customers. Your dealership can grow unique conversions for individuals who are not familiar with your dealership, or who have not visited your dealership's website before.
Inventory merchandising
Inventory merchandising is another effective way to move older model or used vehicles off your lot. Below are a few strategies you can use to show the vehicles you want your customers to see first:
Custom sort used vehicles–Sort your inventory based on units you need to move or highlight, such as used inventory models or quick-selling inventory.
Old model or Used units first for higher visibility-If you're having issues getting used vehicles off your lot, this might be a good option to try. Highlighting the oldest vehicles can add another level of exposure and reach customers in the market for vehicles you need to move, before flooring costs mount up.
Manufacturer-first–Is the majority of your pre-owned inventory your OEM's primary brand? Why not showcase and highlight that brand on the used side as well. You can even pick which models show first.
Specialized inventory set–Do you have an amazing selection of used vehicles such as specially equipped trucks with tire or wheel upgrades, lift kits, and other accessories? As long as you have a common piece of data in your inventory feed - like a unique trim, stock number, or model code – you can create specialty inventory sets for your dealership site. This strategy makes these models more visible to a customer visiting your site.

Direct Mail and Variable Data Printing (VDP)
Direct mail is the unsung hero of direct marketing. It's come a long way and has gotten some serious upgrades such as variable data printing. VDP helps increase the effectiveness of your direct mail marketing by using customer data to personalize and target specific segments of your CRM. This helps your dealership stand out, while also reminding customers of their unique vehicle interests.