The industry-wide challenge--
Your service department provides more opportunities for sales and revenue than any other department; however, dealerships across the nation are losing customers left and right. This industry-wide problem is often addressed with customer-centric marketing and conquest marketing, but dealers shouldn't stop there. These strategies alone are not enough to tackle the issue head-on.
What caused the challenge?
The answer lies in engineering advancements and longer finance periods – cars have become much more reliable, while longer, more flexible finance periods keep customers from being in a position of equity to trade out their vehicle. For these reasons, people are not buying vehicles as frequently as they used to, causing the average age of vehicles on the road to rise (11.6 years![1]) as well as the length of ownership, which has increased from 4.3 years to 6.5 years[2].
Cars today are built to last, giving consumers the opportunity to hold onto their cars much longer with fewer issues. This means dealerships are seeing vehicle shoppers less often between purchases, less showroom traffic, and are experiencing higher customer defection rates. However, don't fear this situation - embrace it! It has created a massive opportunity for dealers- a gap to fill with targeted service marketing. Although increased vehicle reliability has contributed to a customer retention issue, it is also one of your most valuable selling points.
How should dealers address this double-edged sword?
As consumers hold onto their vehicles longer, the need for parts and routine service increases. This is where your dealership should heavily rely on digital advertising for fixed ops marketing. Another point to consider is that consumers do not usually plan for vehicle maintenance. In fact, more than 40% of service shoppers need reactive maintenance instead of routine maintenance[3]. Emphasizing the importance of routine maintenance for safety and vehicle wear and tear, coupled with an incentive or discount, will help dealerships increase their service retention.
Retention requires understanding consumers' motivations
Understanding what drives shoppers' loyalty to parts and service providers is becoming a bigger part of the customer journey. Research shows that when people need information quickly, the first place they go to is Search[4]. Today, 25% of all automotive searches are parts, services, and maintenance related and more than half of these searches come from mobile. Search allows consumers to find answers quickly and to take action[5].
If you want to capture parts or service intenders, the place to start is digital. Digital influences nearly 60% of vehicle purchases at the dealership, and that digital influence is even stronger when it comes to post-purchase service[6]. The bottom line is that your dealership needs to show up for consumers at any moment - whether it's proactive or reactive.
What is your competition?
Your competition is NOT other local dealers– it's third-party service shops and mechanics. Less than 30% of all service visits are conducted at a dealership – and only 17% of consumers went to the dealership where the vehicle was purchased[7].
Why is this? Vehicle owners have a bad perception of the dealership experience. In particular, consumers believe a dealership's service department is more expensive and less convenient than going to a third-party auto shop down the street. These two factors are exactly what dealerships need to emphasize in their marketing – cost-savings and convenience. Customers already know your dealership has [your brand]-trained technicians and genuine parts; but, they don't care unless you make it worth their time.
A look under the hood: Strategy
To retain customers, dealerships need to keep them engaged before, during, and after service or purchase. Address consumers' beliefs about overcharging by offering and promoting competitive pricing or price matching. This might require a little research, but digital allows you to influence consumer behavior by serving ads that directly reflect their search or online browsing activity. In terms of convenience, try advertising 'open-late' service hours (if you have them), or mention how close your dealership is to major metropolitan area(s) where many consumers commute to and work.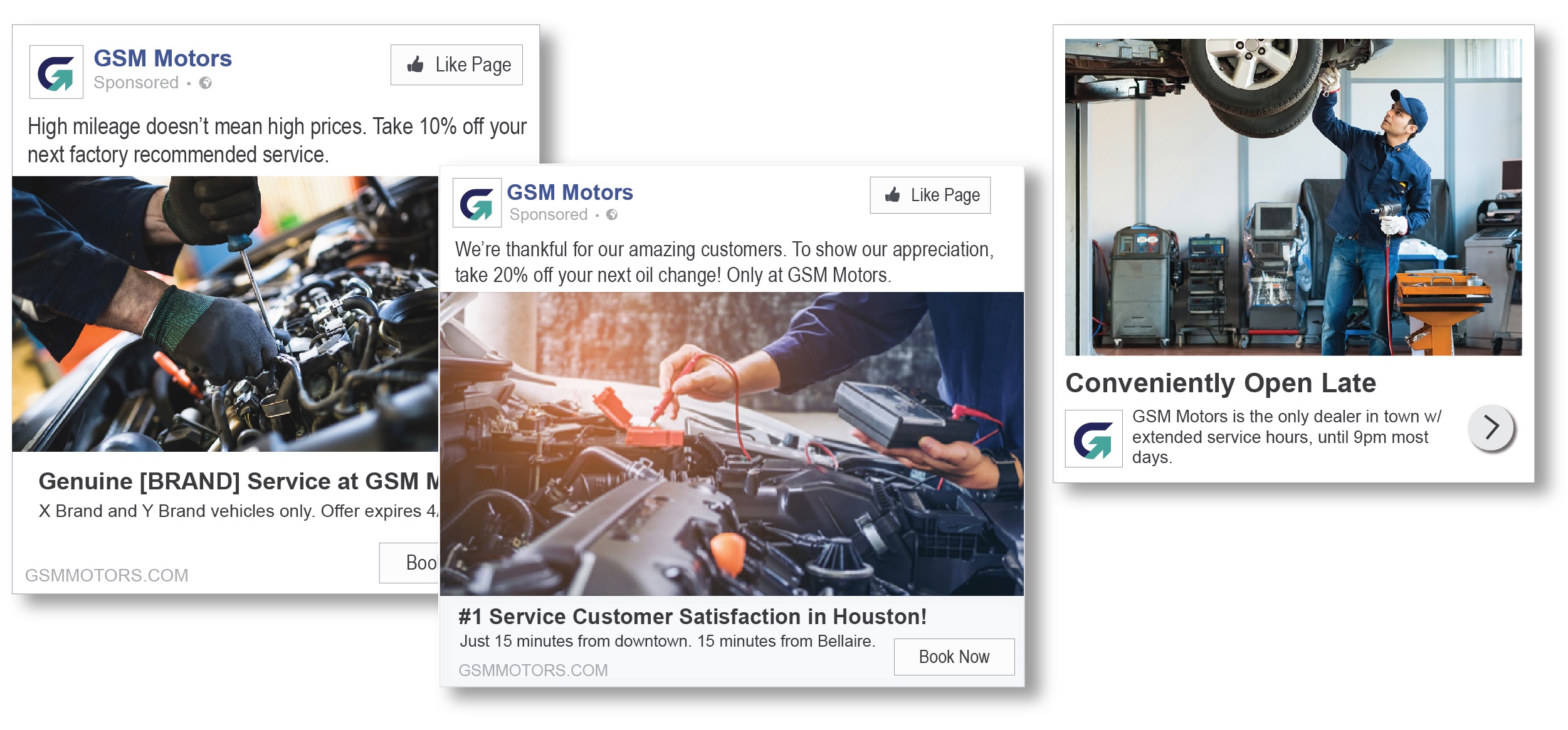 With more older vehicles on the road, a Mature Vehicle Program with savings/perks for high-mileage vehicle owners is a great way to bring in more cars for service or repairs. Mature vehicles also have a higher repair order (RO) dollar potential for defector items such as brakes, tires, or batteries. A mature vehicle or high-mileage program will improve customer retention and response rates, while also increasing customer pay revenue, average RO totals ($), and/or parts sales.
GSM's Mature Vehicle Program (MVP)
Exclusive MVP coupons fight the common perception that servicing an older, high-mileage vehicle is too pricey without a warranty. Our program is a proven model for fixed ops success. In fact, the average GSM MVP repair order total ($) is 70% more* than non-MVP program clients. Even better, MVP owners actually come in for service 0.4%* more frequently than non-MVP program vehicles. This program is highly effective at bringing in high-mileage vehicle owners for parts, service, and repairs - even more so than low-mileage or warranty vehicles. Keep high dollar repair orders in your service bays, instead of third-party shops.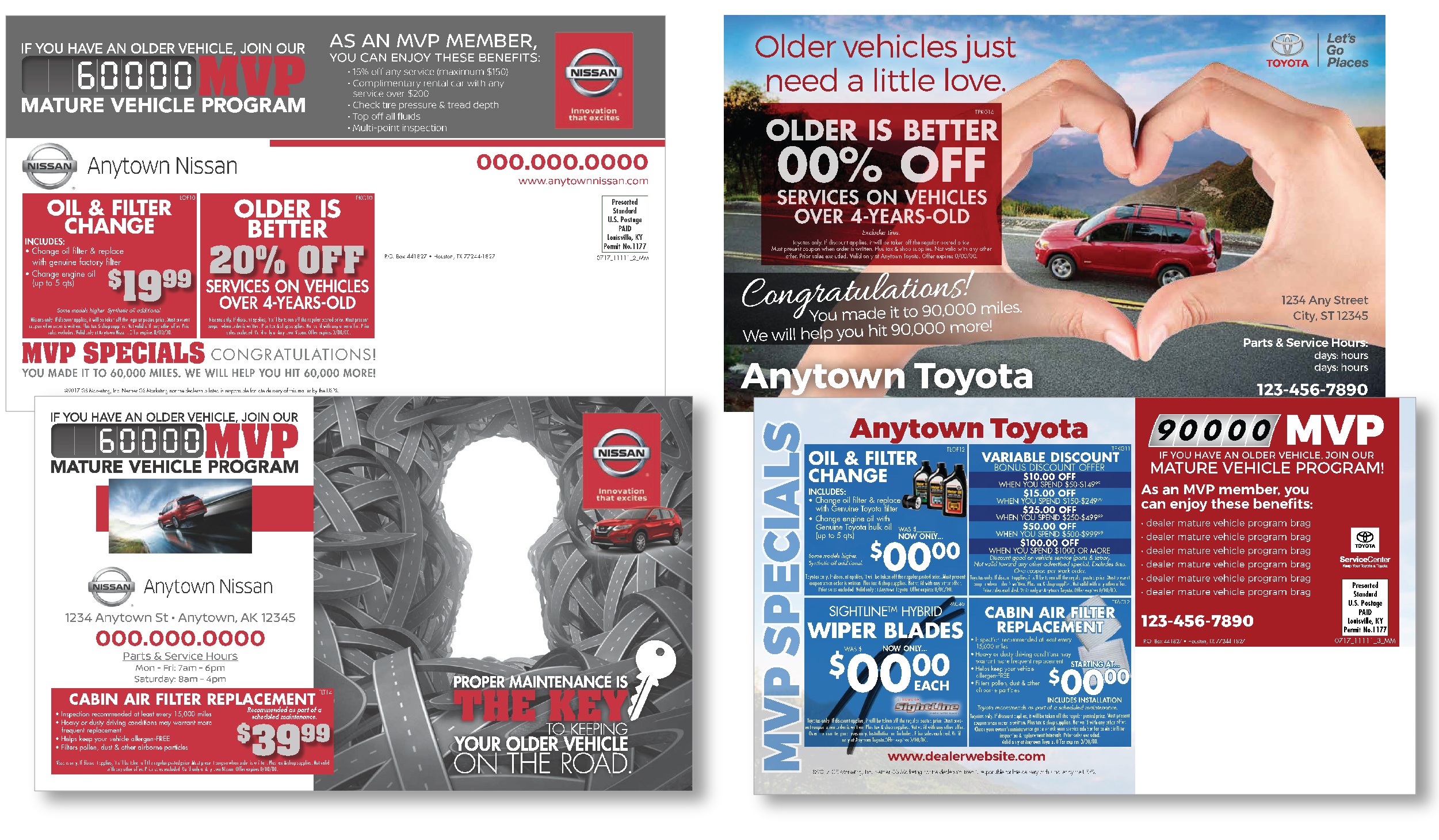 In addition to combining your digital efforts with fixed ops marketing, you should also consider lifecycle marketing. Lifecycle marketing ensures your dealership is communicating with a consumer throughout the entire automotive journey.
Post-purchase contact, and follow up, is one of the most important parts of the customer experience. After a high-investment purchase, customers need to feel valued and gain a sense of reassurance. In fact, 62% of customers are not contacted post-purchase[8]. Even worse, 75% of in-market shoppers are not contacted by dealers when they are actively looking for, or thinking, of buying a new vehicle[9]. After only one year since buying a car, 40% of consumers are already thinking about their next purchase[10] - dealerships cannot afford to neglect consumers after purchase.
Post-purchase communications create valuable trade-in opportunities, opportunities to move inventory, and higher retention rates. Lifecycle Marketing's triggered communications are the best way to follow up with customers post-purchase whether it's for a welcome, a thank you, or a reminder communication.
Want to learn more about our Fixed Ops marketing solutions? Please click the button below:
[1] Automotive News, 2016: Average age of vehicles on road hits 11.6 years
[2] Google Think, October 2017: What the auto industry needs to know to close the sale after the sale
[3][4][5] Google, 2017: Critical Mix Fixed Ops Study
[6] Deloitte, 2016: Digital Influence Survey
[7] Autotrader, 2017:
[8][9][10] Maritz Research 2013: Automotive Customer Journey Study
* GSM Proprietary Data